Projects
How to create a project
It's very easy to create a new project in Nozbe. To do so, open the All Projects list in the left-hand side menu, and select the purple "+" icon to open the project set-up form. You can tap on the "Create New Project" button visible in the "Followed projects" section in the left panel and create a project this way.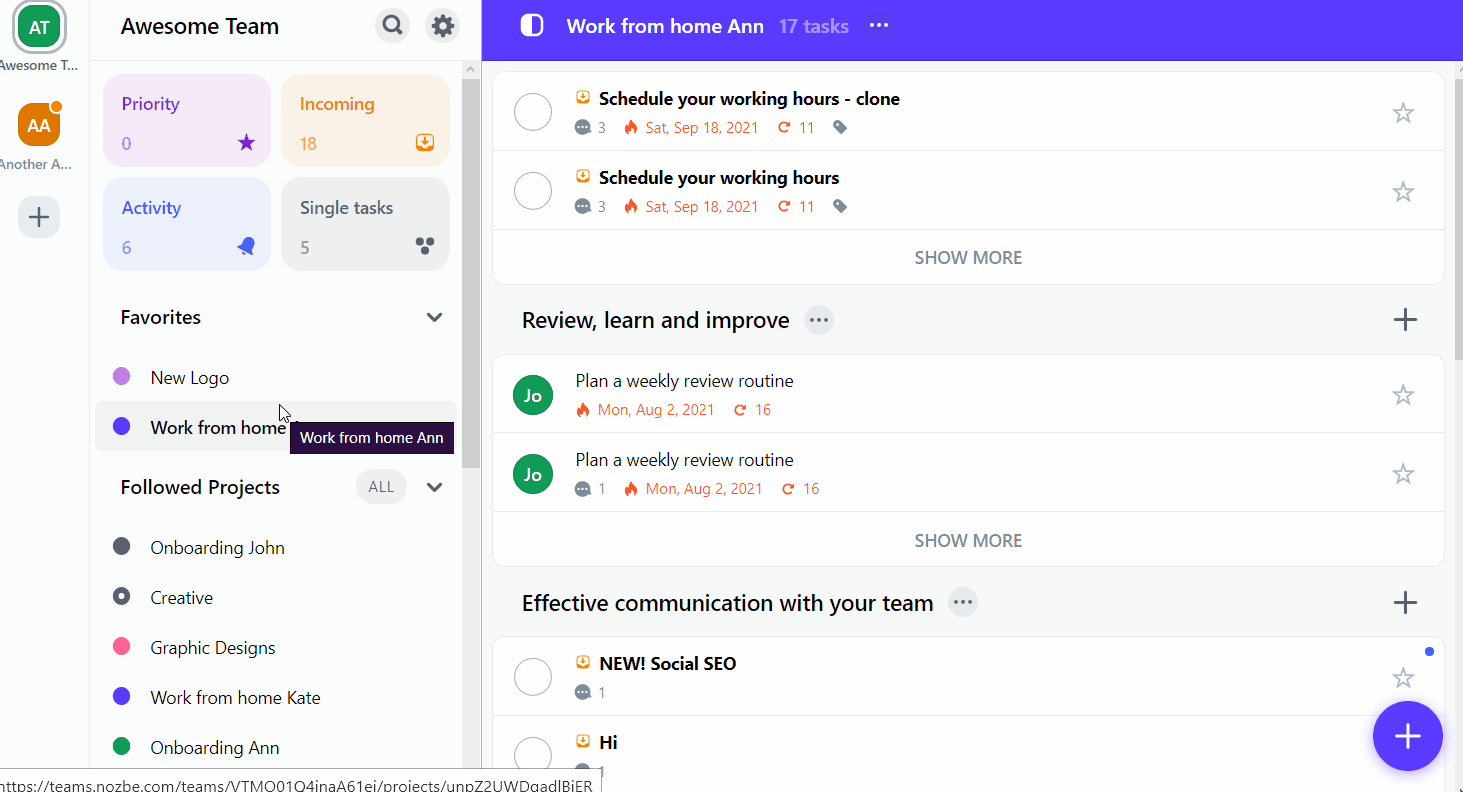 But that's not all. You can also open a task, tap on its project attribute, and create a new project directly there.
New projects are by default open, which means that they are visible to anyone in your team. Thanks to it, you can immediately start working on them and assign tasks to your team members. Other team members can edit the names of open projects, change their purposes, and grant or remove access to them.
Of course, you can create a private project or invite selected people from your team by choosing the "Invited members" option while setting it up. Your team projects will be marked with a "dot," invitation-only ones with a "ring," and the personal projects will have a padlock icon next to their names. Please note that this option is available for Premium users only.
Project's details
Enter a project, tap on the three dots next to its name in the top bar. You can see different options in the drop-down list: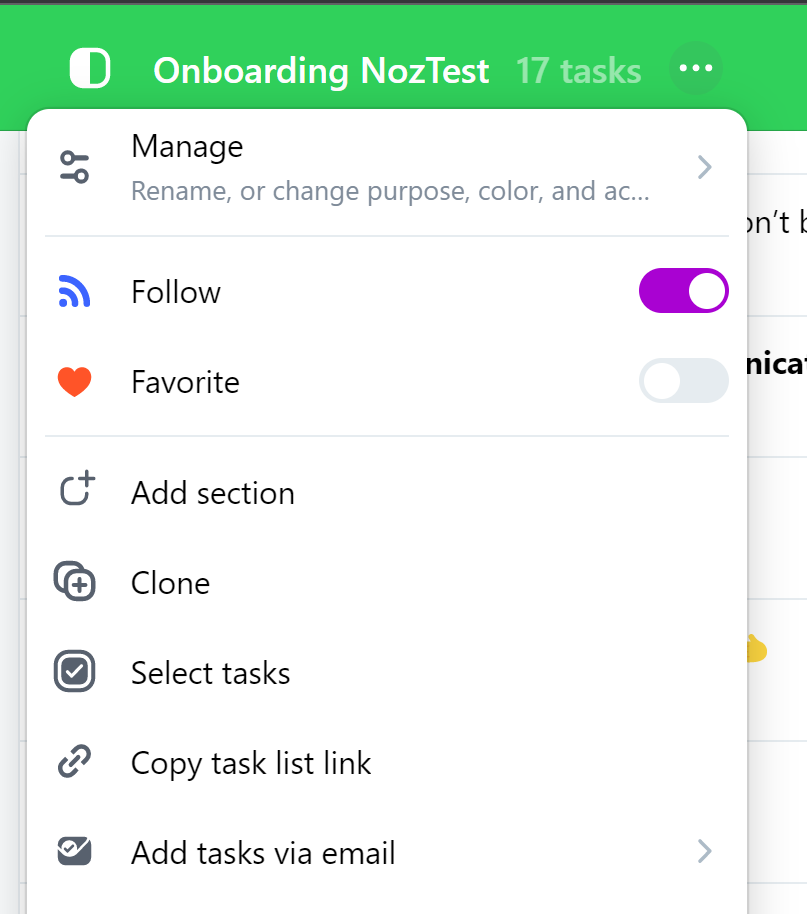 Manage: use to change this project's details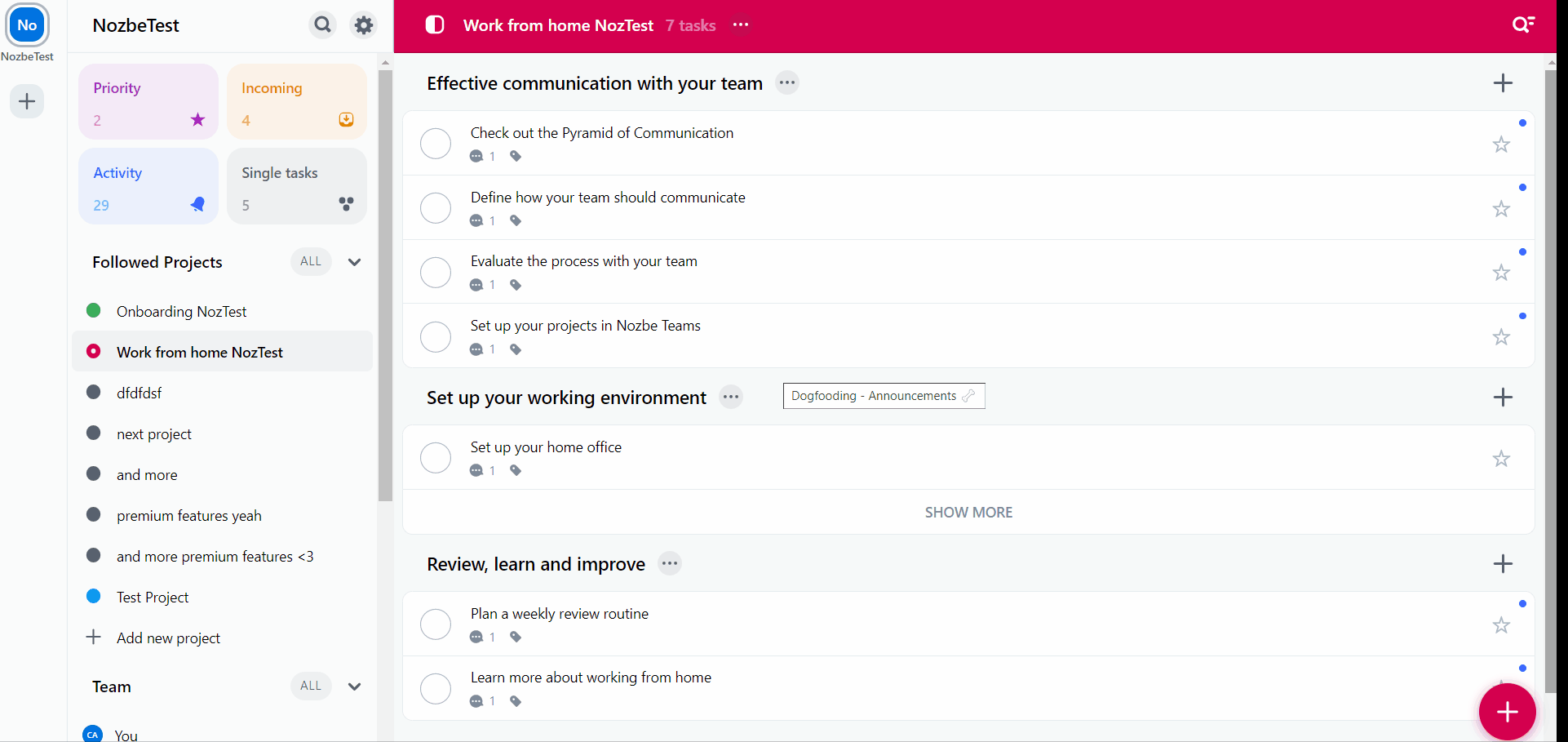 General: change the name and set purpose - very useful, especially in shared projects
Color: use color to highlight your project
NOTE: You can use suggested team color for your projects. You can freely toggle between your color and suggested color inside project settings. Team color is automatically set for every new project. It can then be changed only by managers.
Members: tap on it to see the list of users you share this project with. Here you can also add new users to this project
Share a project with another team: you can do it by providing the email address of another team's owner or admin
Groups: you can check which groups have access to this project.
End project: use it to mark your project as completed
Follow: the projects you follow are displayed as first in the sidebar on the left
Favorite: mark your project as favorite to see it on the top of the list on the right side.
Add section: you can divide your project into different sections. It is helpful when your project is getting bigger and more complex
Clone: you can create a copy of the project, its sections, and active tasks.
Select tasks: you can choose several tasks simultaneously and edit them.
Copy task list link: you can generate a link to your task list.
Add tasks via email: you will find the project's unique email address you can use to send tasks to via your email client.
Show all completed: it will allow you to see completed tasks
Project Managers
As a manager, you can add new people to a project or remove them. You can also edit project's details as well as end it.
Note that as a manager it is necessary to add a manager permissions to someone else if you wish to leave a project. Only after this can the new manager remove the previous manager from the project.
If a manager leaves a project and team admin is a member of it, they can can become a new project manager.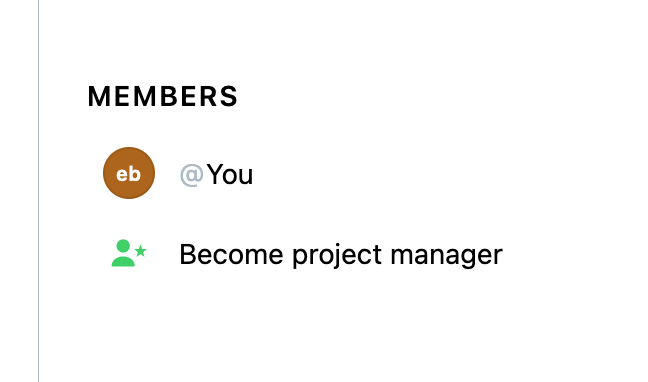 Sections
Sometimes tasks in a project serve different purposes, especially when a project is vast and complicated. So to keep your workload in order, use project sections! Put your tasks under various sections to better view your project.
How to create a project's section
To create a new section, tap on the project's name and use 'Add section.'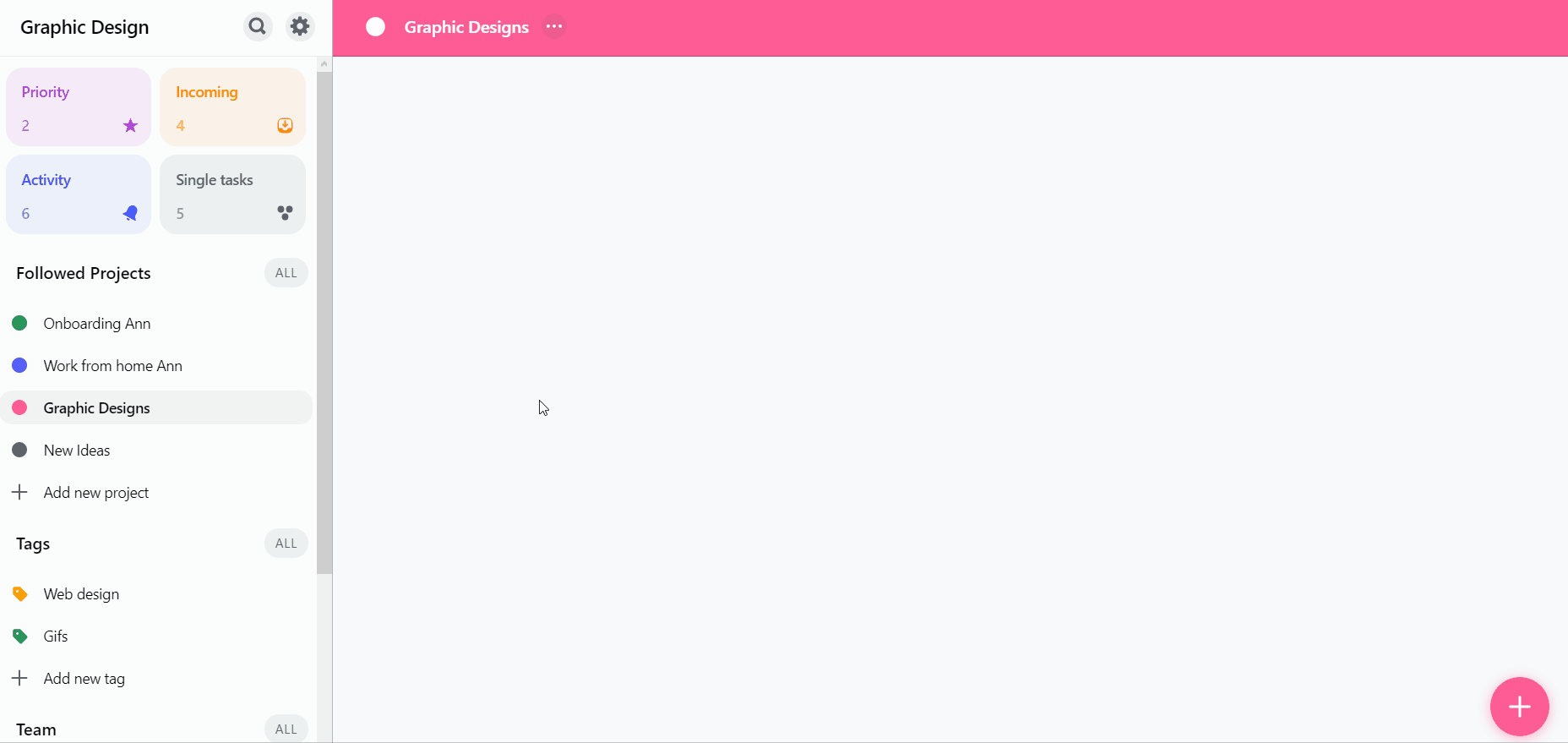 How to add your tasks to specific sections
When creating a new task, you can choose a "+" icon in a specific section to ensure the new task will be added right there.
You can also drag and drop all tasks between the sections in a project. There is one catch- you have to have at least one task in a section to move your task there.
Change the section order
There are two ways to change the section order in a project.
Tap on the section's name and choose to move it down or up.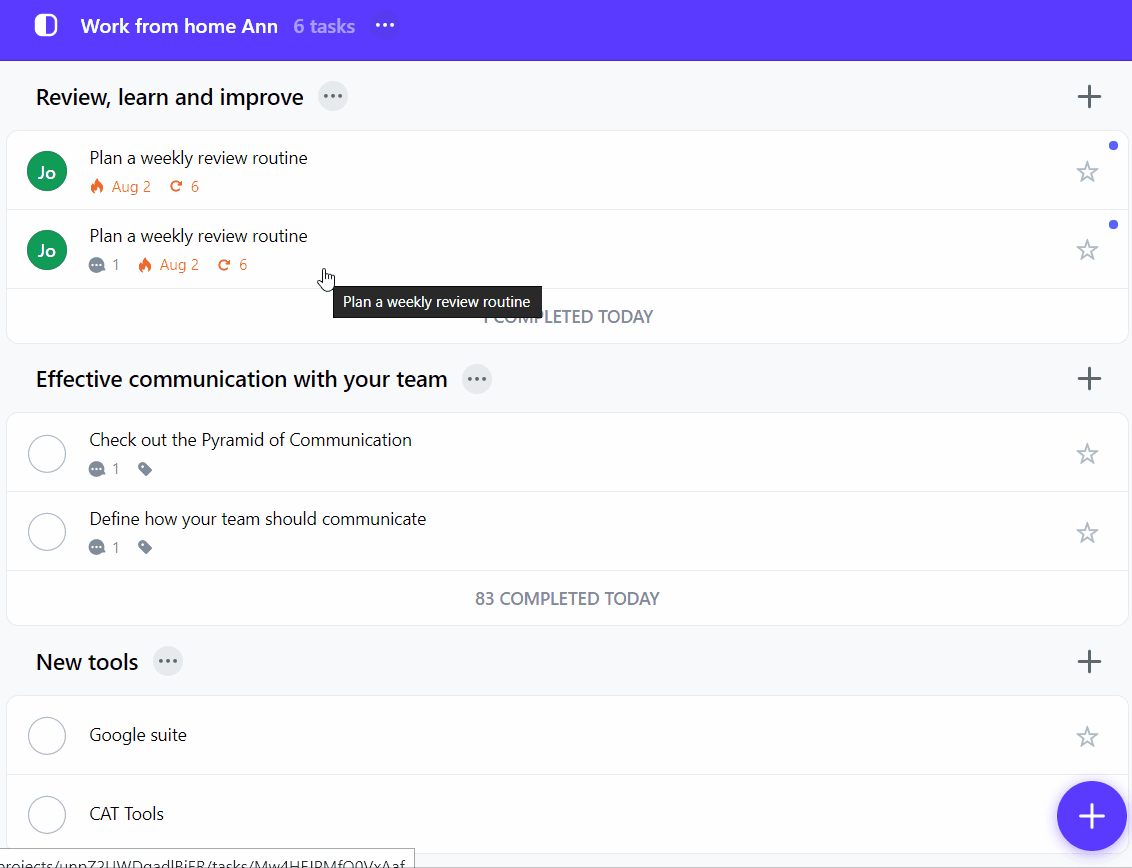 Use the drag and drop option to move the section up or down.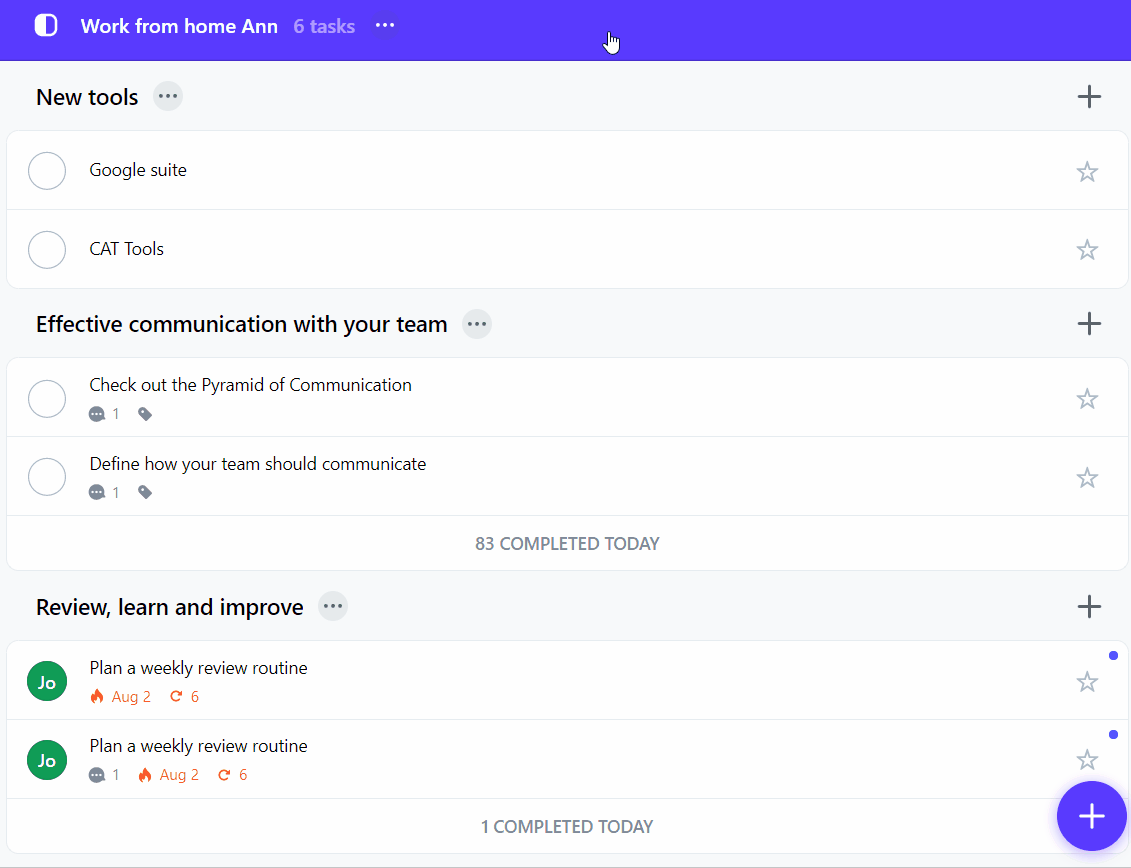 Archiving and deleting sections
If you don't need a particular section anymore, tap on its name and choose the "Archive" option to move it to Nozbe's archive. You won't see it anymore in your project.
To restore the archived section, you first need to tap on the project's name and choose "Show completed." You will see your archived section on the list- tap on its name and select "Restore."
Once the section is archived, you can delete it permanently. Please be sure you won't need it anymore.
Collapsible sections
You can also hide tasks from sections by collapsing them: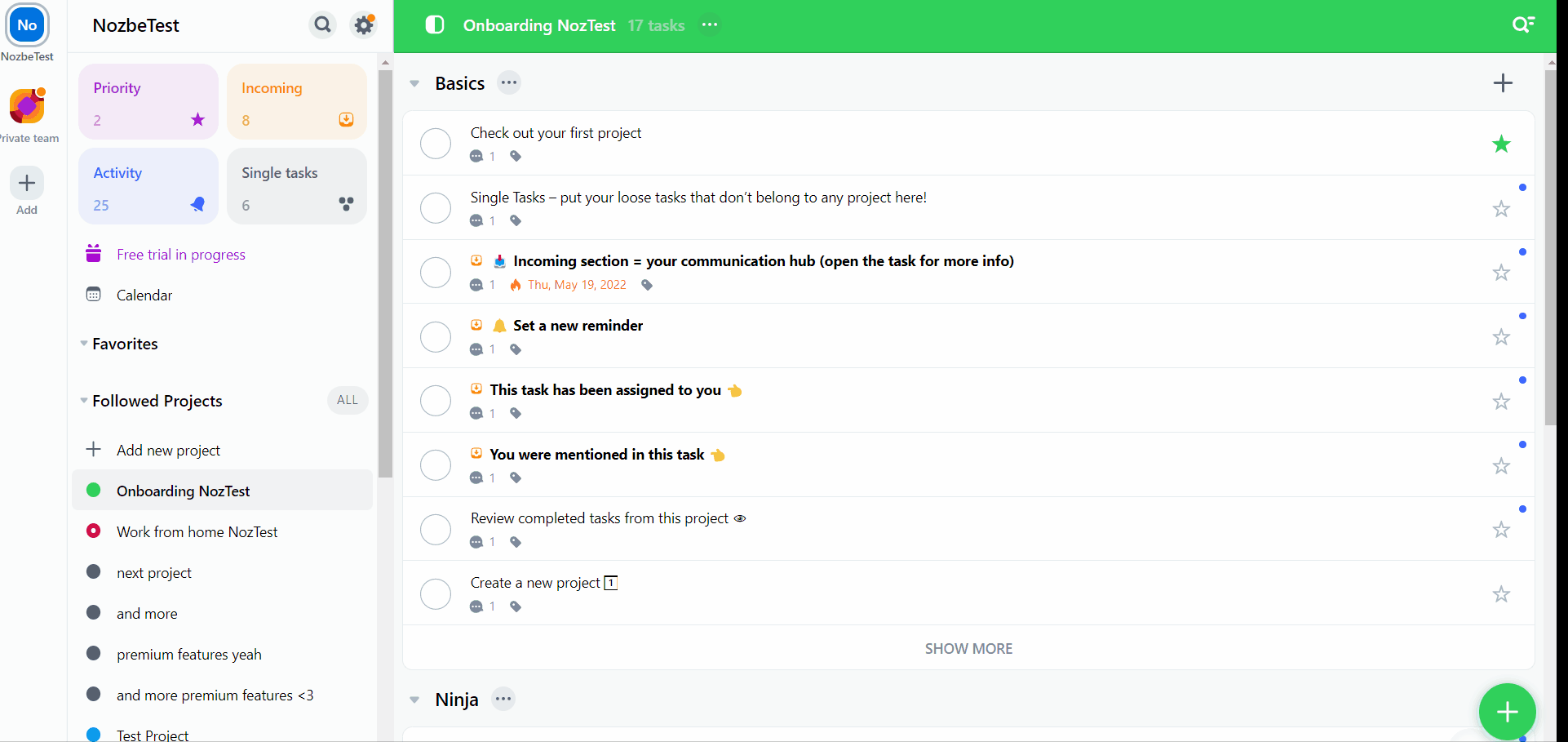 It may be really helpful if you want to have extra focus on tasks from a particular section.
Followed and favorite projects
If a team member creates a new project, it will appear in the Activity view of other team members.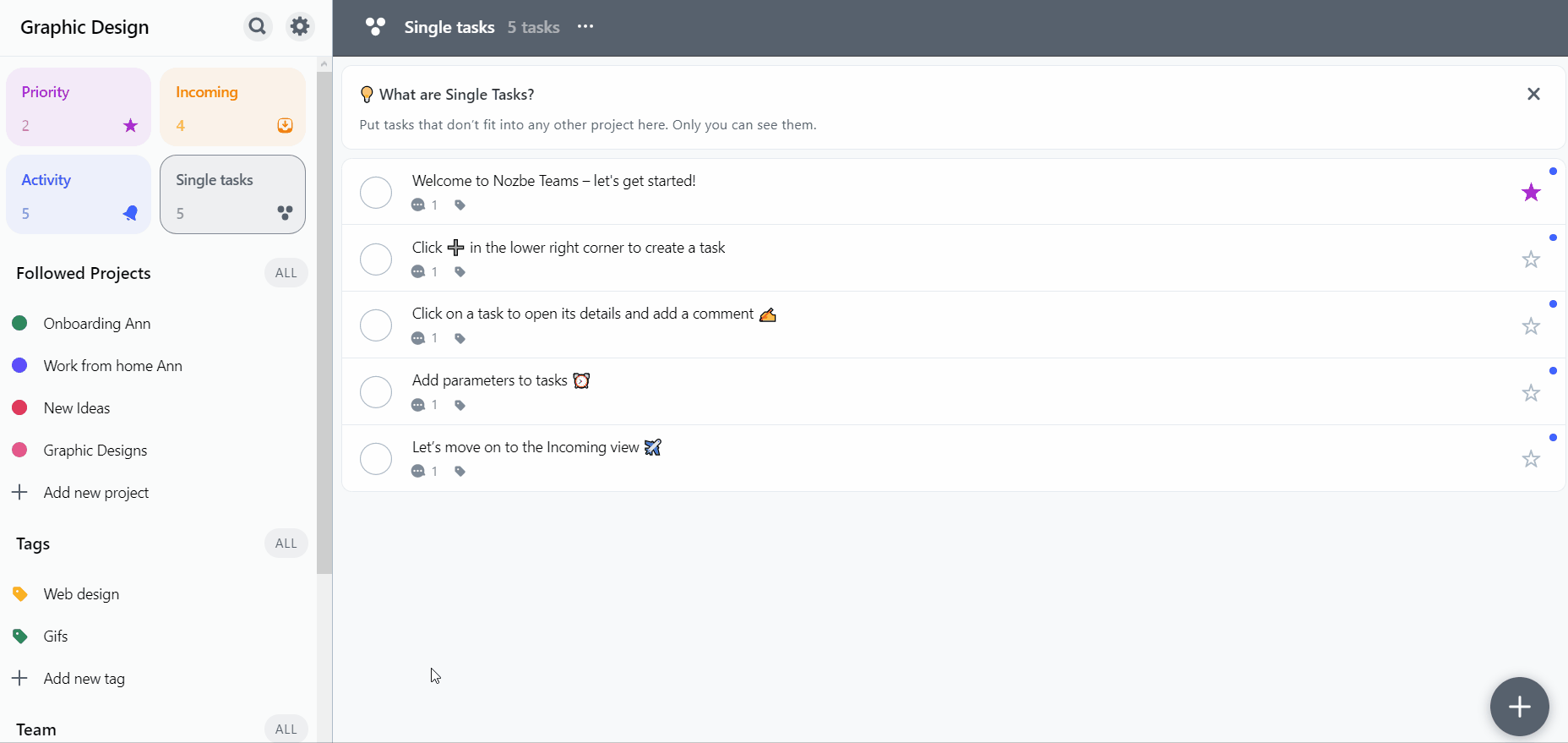 If a project is important to you and you want to stay updated about changes, you should follow it. Tap on the newly created project's name in Activity and choose 'follow'. From now on, you will see new comments in the tasks from this project in your Activity section. You can also easily access the followed projects directly from the sidebar on the left.
Mark the most important projects as your favorite. They will be displayed in an apart section in the sidebar (right above the followed projects list), and you will be able to access them easily.
Under the 'Project' headline, you will see the list of all projects you follow. If you want to see the list of all projects you are added to (also the ones you don't follow), tap on this headline.
When someone mentions you in a task from project you don't follow, you will receive a mention about it and the task will show up in your Incoming. You will always see that task in your Activity each time new comments are added. Of course, you can unfollow the task anytime.
Grouping projects
You can also manage projects and combine them into groups. It is a helpful feature for users who have many projects and want to manage them more effectively. Please note it's a premium feature, so it's not available in free accounts.
How to Create a Project Group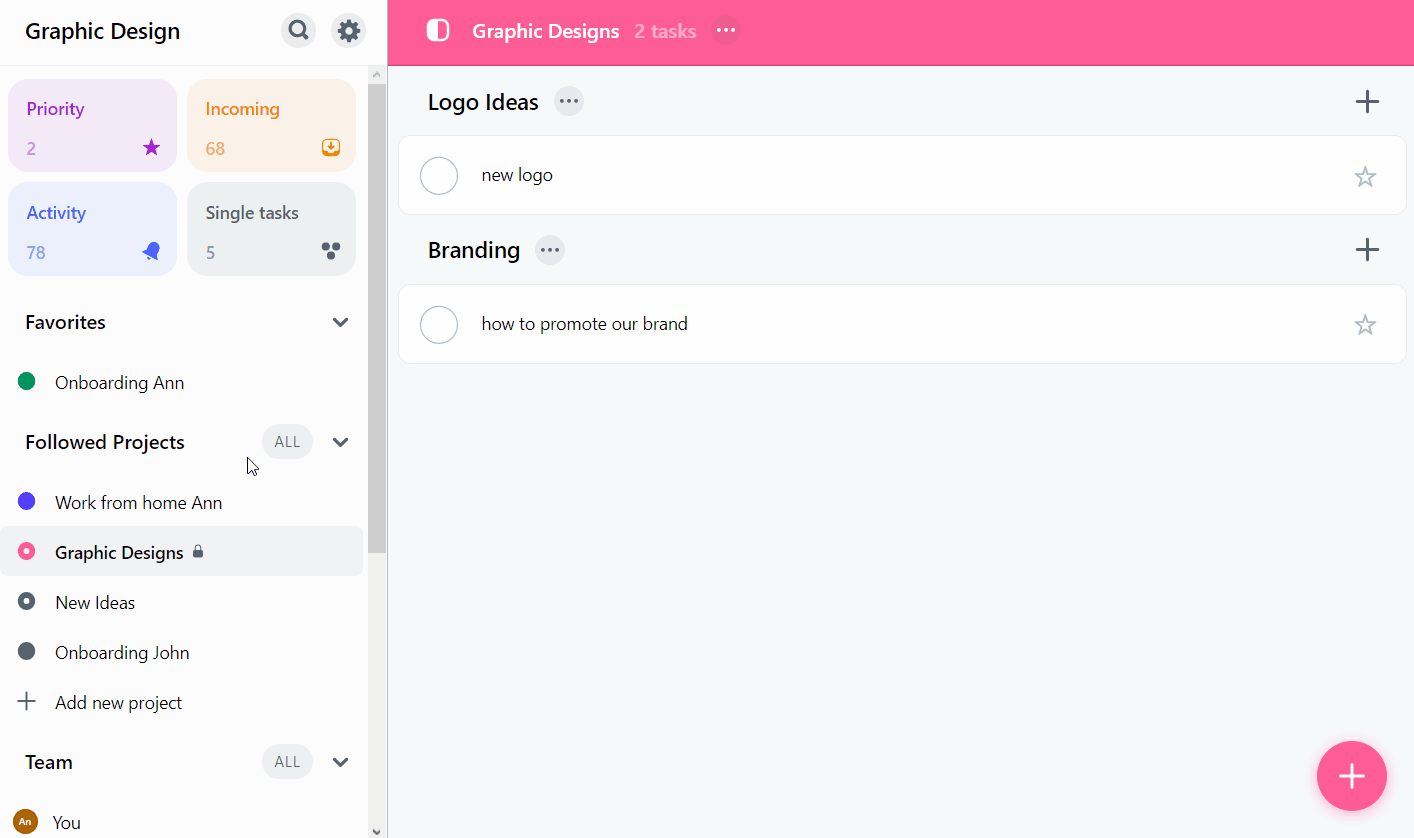 Tap on the "All" button displayed next to your "Followed Projects" to see all the projects created in Nozbe. Once you are in that view, tap on the "Groups" tab and the "Create new group" button.
Group's Privacy
Now you can name the group and select who can see it. Team admins can choose whether they want the group to be visible to everyone or keep it private. A team member can also create their project group, but only they will see it.
Choosing Projects That Belong to Your Group
If you tap on "Manage projects," you will be able to add the projects you want to have in that group. When you finish, click on "Create," and you will see your project group on the list.
You can also add a project to several different groups. Just tap on a project and open its menu (3 dots icon). Then tap on the "Groups" option and choose the groups for your project. Tap on "Done" to confirm, and that's it. Your project belongs to all the groups you have checked.
Change Group's Parameters
You can, of course, change the group's parameters anytime you want. Just tap on the three dots next to the group's name. You can manage projects added to the group, rename them, show all completed tasks, or delete them. Don't worry- it won't delete the projects added to it. Please note that only the admin or the owner can modify public groups.
Joint projects
You can share projects also with other teams. If you wish to collaborate on a project with users from a different team, open the project and go to its settings. Then tap on "Manage" and use "Share project with another team".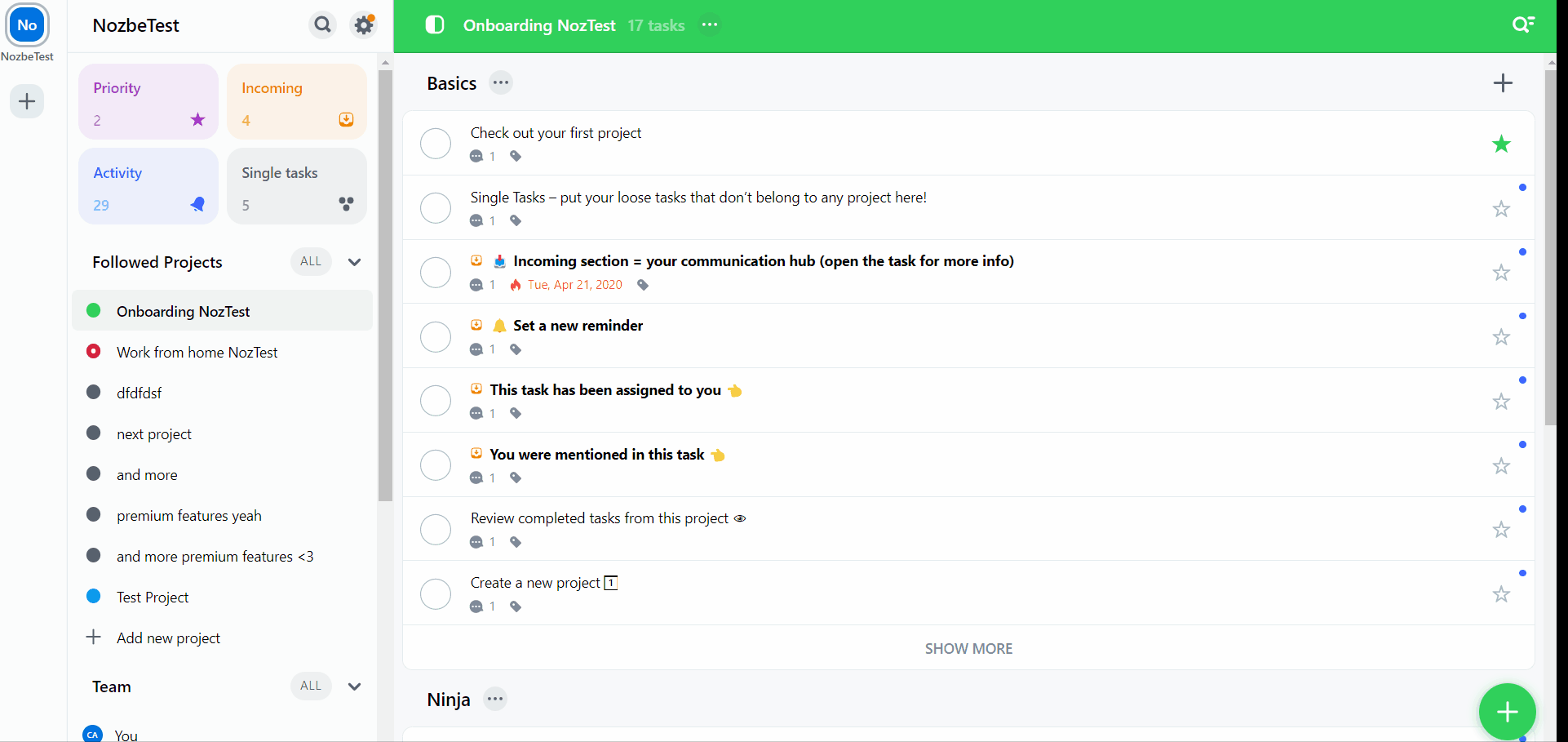 The project will be shared and visible to the other team once they accept the invitation on their end.
Every project can be shared. Once a team project is shared with another team, it changes into a project with limited access.
You can also send an invitation to a project to someone without a Nozbe account. They will receive an email with an activation link in it. If they follow it, they will be able to set up an account.
Joint projects are available as a Nozbe Premium feature only - the team inviting must be Premium, the team accepting can be a Free team.
How to clone a project
To clone a project, open the one you want to copy, tap on the three dots next to the project's name and choose the "Clone" option.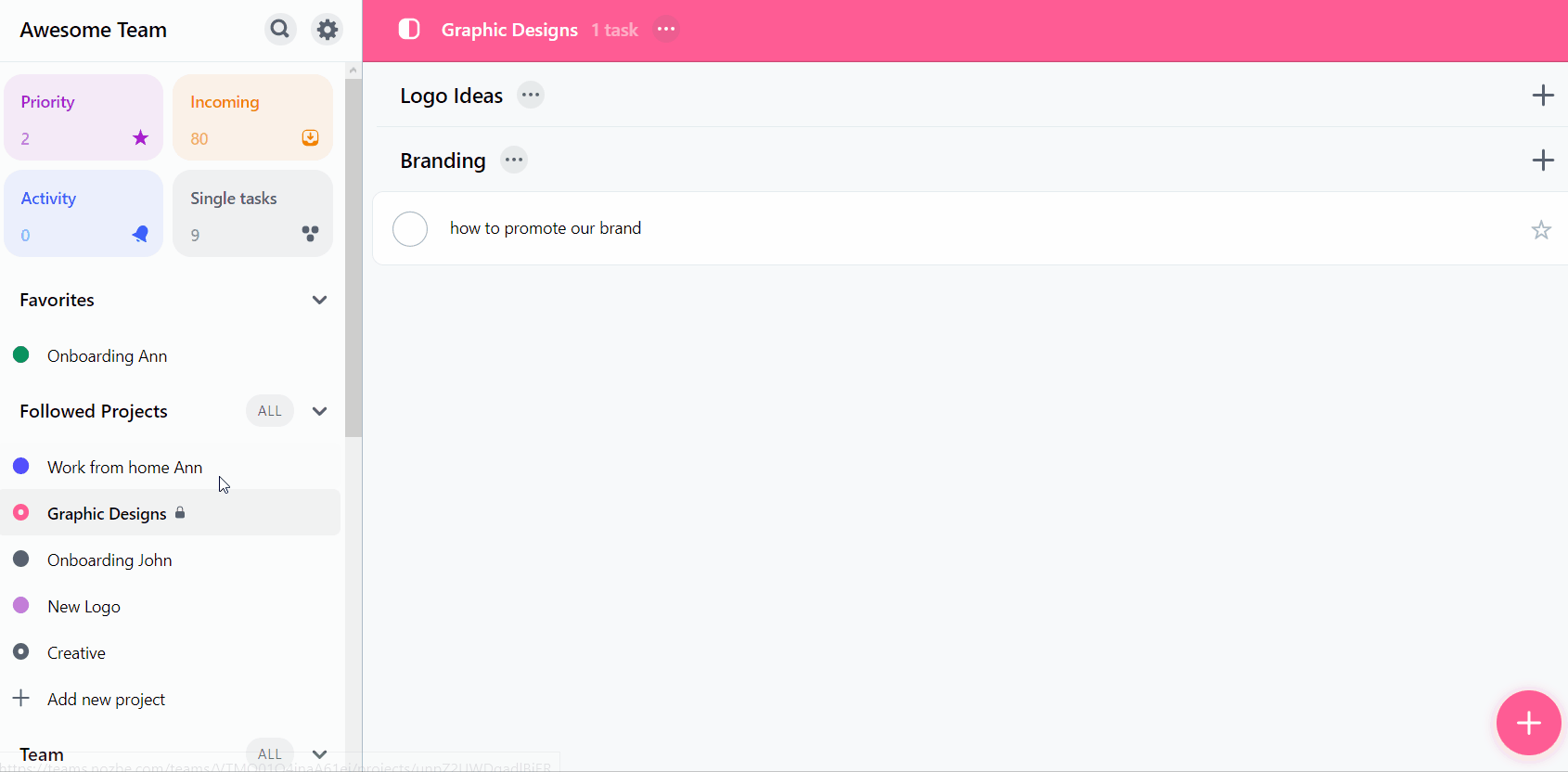 The app will copy the project's attributes and sections, and tasks. As for the comments, Nozbe will clone only the pinned ones.
You will find the link to the original project in the cloned project's description.
Please note that you will become the author of the entire copy if you clone a project.
You can also clone a project to a different team. It's a great option if you manage multiple teams and you have to set up projects for procedures with similar steps.
Just tap on project menu > Clone > and select team you want to clone to: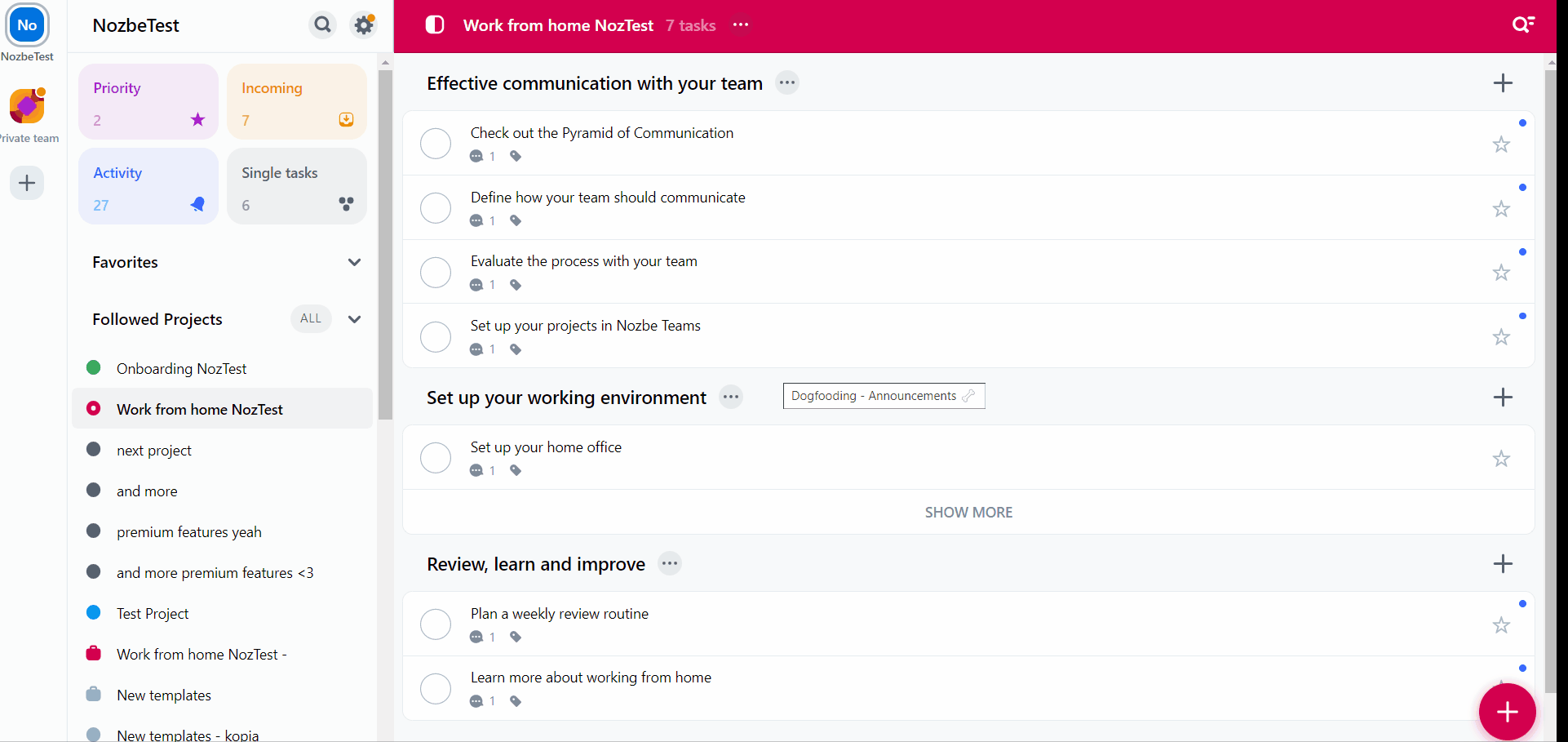 How to Change a Role or Remove someone from Project?
In case you wish to remove a person from a private project, click on the "…" (three dots) button next to the project's name (1) and choose the "Members" section. In this view, you can remove this person from the project. Use the "Remove from Project" option (2). Please save the change and tap on the "Confirm" button again.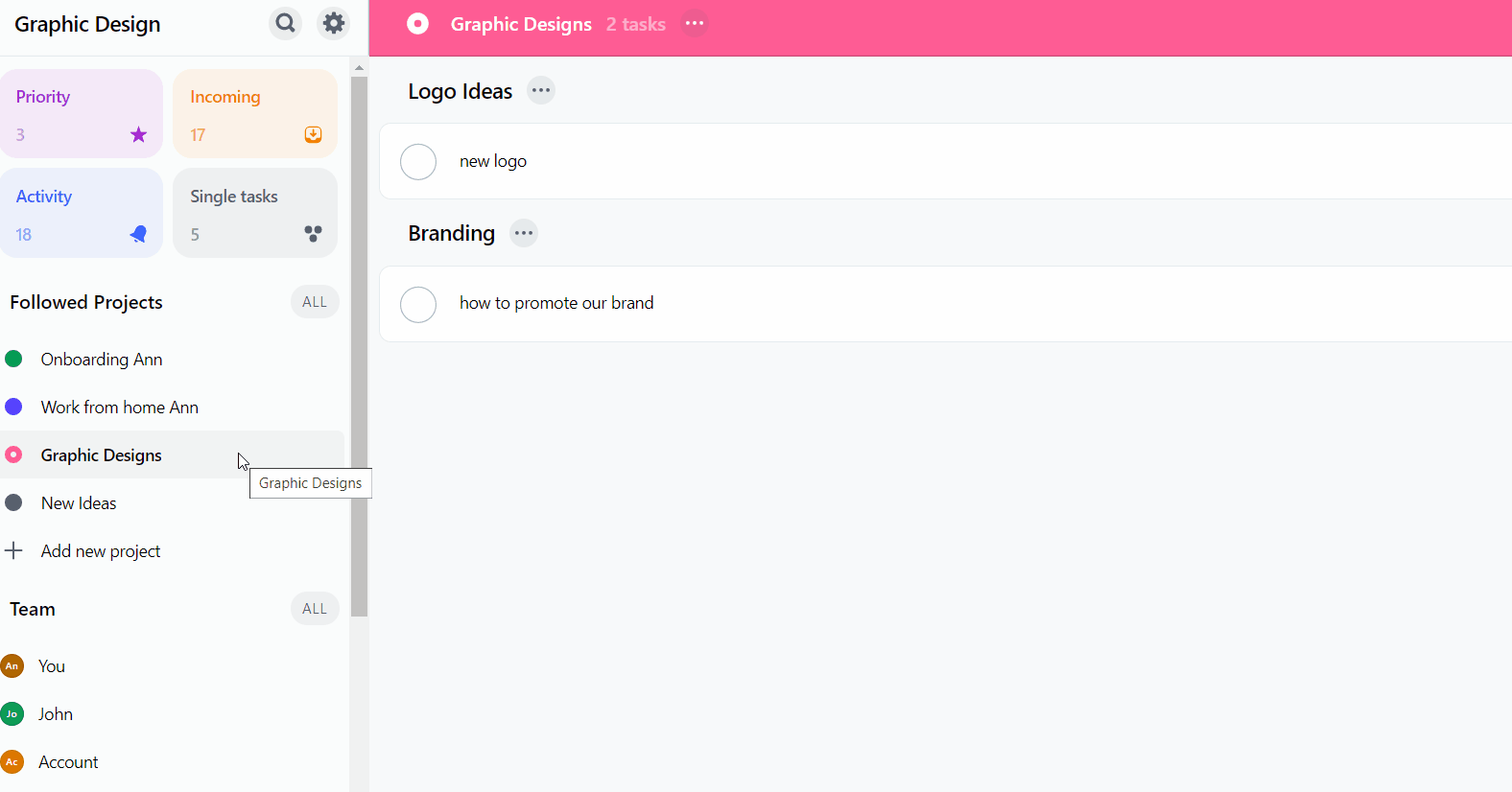 In the same view, you can also grant a Manager status. As a manager, you can end a project or add new users/remove them from it.
How to Delete Project?
To delete a project, you have to end it first. Open the project's details and choose the "End project." After confirming it, open the details section again and select "Remove." You will be asked to enter the project's name in the next step.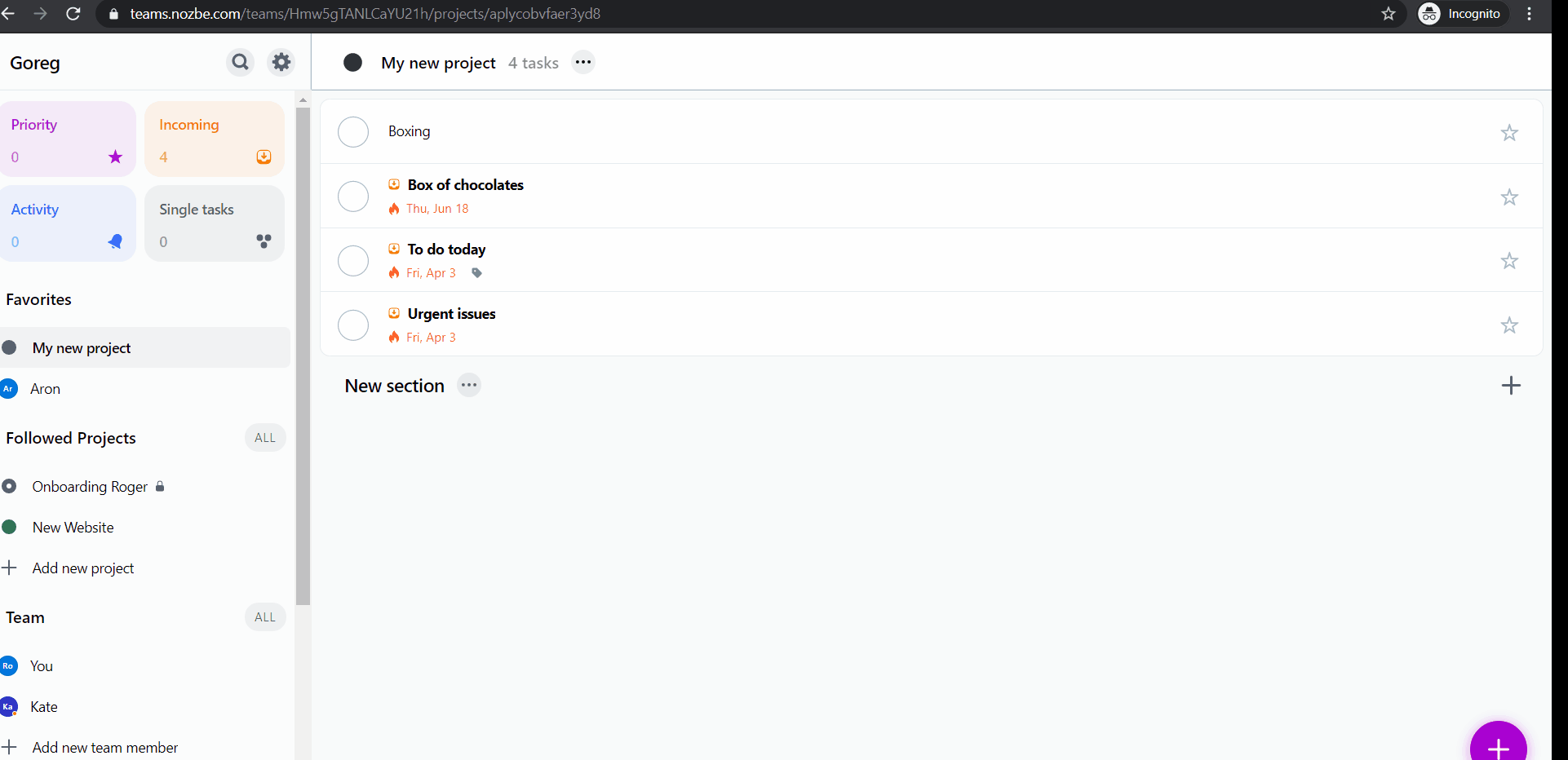 Please, remember that once you remove a project, you won't be able to retrieve it. That's why we would suggest ending your projects instead of removing them from our database.