Nozbe Plans
Free Plan
Nozbe is completely free for teams up to:
5 people
5 projects
3 project sections
1 team
500 MB data for your team.
Also, as a free user, you can't nominate team admins. So if your team grows and you need more people or/and projects, consider choosing one of our Premium plans.
In Nozbe, we don't want to put barriers on inviting new people. So if you add one more user above the free account's limit, your plan will be changed to trial. This way, you will test Premium features for free for 30 days.
Why Should You Upgrade to Nozbe Premium?
As you can see, many functions are limited on Nozbe Free. As a Premium user, you don't have to worry about any limitations, and you can benefit from Premium features:
get work done in unlimited projects and invite-only projects
create unlimited project sections
use unlimited tags
skip the 5 accounts/projects limit and let your team grow
nominate an unlimited number of team admins
store documents, files, and data on your account (up to 100 MB/file)
Nozbe Pricing
Nozbe is really affordable if you want to use it in your team. The app is meant for team cooperation, so you pay for the number of accounts for users you want to collaborate with. You will find the current monthly and yearly prices on our website:
With these plans, you can create unlimited projects. The project creator can give access to them to other team members or keep them private.
Set up your team for free
Additional People in Your Team
The significant advantage of the Nozbe account is its flexibility. Being an account owner, you can remove inactive users and add new users whenever you need them.
Do you need to adjust the users limit in your team? In this case, you have to switch to a different plan. In Nozbe, you can do it quickly and easily, and you don't have to pay anything. Our payment system will recalculate the unused funds from your previous subscription and add this time to the validity of your newly chosen plan.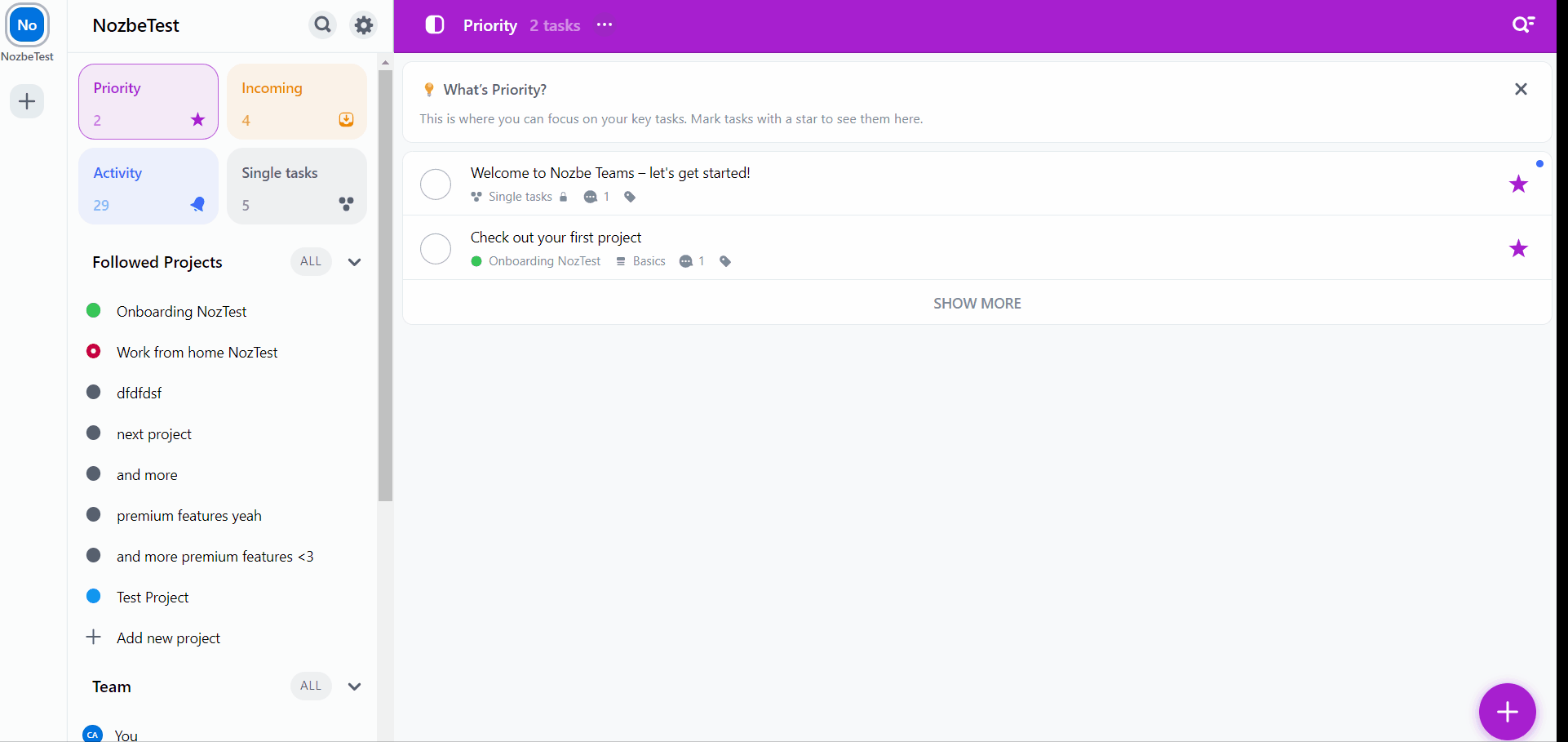 To adjust the user limit, follow these steps:
Open Settings and tap on Change plan.
Select the plan you want.
Tap on Change plan.
After a moment, your new plan will be applied without any additional payment. Its validity date will be recalculated proportionally to your credits. Please note that this works only for Verifone payments. It is not available for iTunes or Google payments.
You can check your new plan, user limit, and expiration date in the Settings. If you want to stop the automatic subscription, open this window again (Settings -> Change plan) and switch off the "Auto-renewal" option at the bottom.
iTunes and Appstore Payments
We also offer the in-app purchase option in Apple App Store.
iOS users can make their monthly payments and add new team members easily via their Apple account:
Tap on Settings -> Go Premium.
Choose your plan and tap on the "Buy now" option.
The notification from the App Store appears. Confirm your choice and purchase the Nozbe plan.
Apple will send you an invoice, and if you want to stop the subscription, go to your Apple account –> 'subscriptions' and cancel it there.
Please get in touch with Apple if you want to receive a refund.
Google Play Payments
You can purchase Nozbe and pay with Google Play in-app payments.
Tap on Settings -> Go Premium.
Choose your plan and tap on the "Buy now" option.
The notification from Google Play appears. Confirm your choice and purchase the Nozbe plan.
If you want to stop the subscription, open the Google Play app and tap on the "Subscription" tab. You can cancel your Nozbe subscription there.
Accepted Modes of Payment
Verifone handles the payments. They are the payment provider, and they will process all receipts. You will receive an invoice from them to the e-mail address provided during registration. When you need to update the invoice change or add any data there, contact us. We'll be happy to assist.
In this Nozbe payment system, we accept credit cards (MasterCard, Visa, American Express), PayPal, and wire transfers.
You can also choose sofortbanking.com, WebMoney, UnionPay, or Trustly to pay for your Nozbe plan.
In the case of PayPal, both direct debits from a PayPal account and a credit card payment without a PayPal account are accepted.
Wire transfers are limited to Poland only and will show as an option only after submitting the appropriate billing address during the checkout process.
We don't charge additional fees, but your banks might.
Nozbe.com (formerly Apivision.com) charges users only the fee as displayed on our website and in your payment confirmation. Please note that some banks may pose on your transaction additional costs for which Nozbe takes no responsibility. If you decide to take advantage of our 30-days money-back guarantee, we will refund only the fee as provided on our website.
Downgrade
You can always downgrade your account to a free one. Free license users can have up to five active projects and no more than five team members.
To do so, go to Settings -> Advanced and tap on the "Cancel Account" button. You will see a new window with three options. If you tap on the second option, you can contact us, and we will downgrade your account.
You can also change it yourself. If you don't have more than five users or projects, you can go to Settings -> Change Plan -> Show more options and choose the Nozbe Free plan.
Please, note that downgrade won't be possible, if you exceed any of the following limitations:
you have more that 4 members in the team
you participate in more than 5 projects
you have a project with limited access (unless it's a Joint Project from another team)
you have a project with more than 3 sections
you use more than 1 template
your're an owner of another free team
Canceling a Nozbe Account
You can close your account in the Settings. To do so, open Settings -> Advanced and tap on the "Cancel Account" button.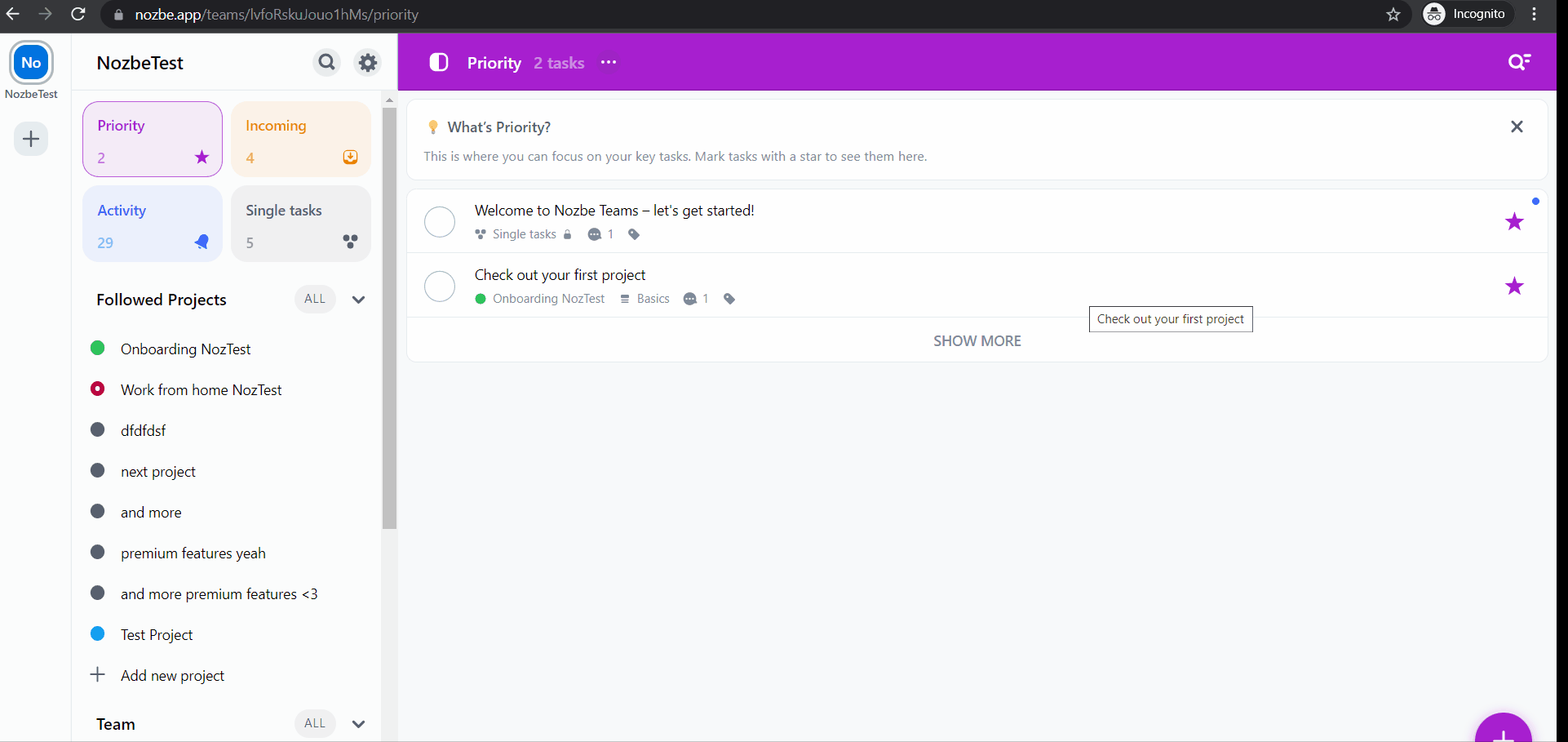 You will see a window with three different options. The third option removes your account from our database. Please send us feedback if you decide to cancel your Nozbe account.